Research Fellowship Awards
Since 2016, FWGBD has provided research awards through the Promoting XXcellence in Women's Health: Optimal Management of Women and Girls with Blood Disorders and Bleeding Disorders research fellowship program. The objectives of the awards are to:
Foster and sustain interest/knowledge of the next generation of healthcare providers working in blood or bleeding disorders affecting women/girls.
Foster collaboration between two core disciplines for WGBD – the OB/GYN (or Women's Reproductive Health specialist) and the Hematologist.
Support the opportunity for junior faculty or fellows to conduct research in these important areas.
The selection criteria include the following elements.
True Collaboration. FWGBD supports researchers who are able to demonstrate an active, working collaboration with a peer in the related discipline – OB/GYN (or a Women's Reproductive Health specialist) for the Hematology applicant and Hematology for the OB/GYN (Women's Reproductive Health specialist) applicant. These collaborations help us reach a shared vision of ensuring that women and girls with blood disorders receive a proper diagnosis, treatment, and management across their lifespans.
Demonstrated Significance. FWGBD supports researchers who are able to demonstrate that their project will have a significant and positive impact on the lives of women and girls with blood disorders.
Support and Sustainability. FWGBD supports researchers who are working with research mentors who are senior faculty at the applicant's home institution for the duration of the award to ensure the research is accomplished.

---
2022 Award Winners and Research Projects
The 2022 Fellowship Selection Committee included Margaret Ragni, MD, MPH (Hematology), Donna DiMichele, MD (Hematology), D. Ware Branch, MD, (OB/GYN), and James Bussell, MD (Hematology).
Special Award Focus Area: Bleeding Disorders Affecting Women and Girls ($35,000)
This Award was made possible through a medical education grant from Takeda (formerly Shire).
Callie Berkowitz, MD
Research Fellow, Hematology/Oncology, University of North Carolina, Durham, NC
Mentor: Dr. Alice Ma
Project Title: Patient Assessment and Outcomes in Bleeding of Unknown Cause
Project Description:
Bleeding of unknown cause (BUC) is a diagnostic category encompassing patients with a clear bleeding tendency but without identifiable abnormality on hemostatic testing. Many BUC patients are female and report symptoms including heavy menstrual bleeding, postpartum hemorrhage, easy bruising, and excessive post-surgical bleeding. Bleeding assessment tools (BATs) administered by clinicians may assist in diagnosis, but self-report instruments for understanding bleeding phenotype and specific needs in BUC have not been explored. Despite growing recognition BUC and enrollment in hemophilia treatment centers, management remains uncertain.
This study will aim to characterize bleeding outcomes of patients with BUC undergoing surgical procedure or delivery. It will also aim to evaluate a self-administered BAT and self-reported outcome collection instrument in a bleeding disorders clinic.
Katie N. Kennedy, MD
Hematology/Oncology Fellow, Brody School of Medicine at East Carolina University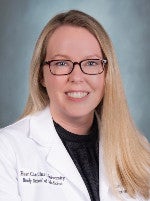 Mentor: Dr. Darla Liles
Project Title: A Collaborative Approach to Women with Undiagnosed Bleeding Disorders
Project Description: Research has shown that irrespective of the hemostatic challenges women face during their lives, they are less likely to be referred to a hematologist than their male counterparts and are managed primarily from a symptomatic standpoint. Recognition and early diagnosis continue to be of the utmost importance for management and avoidance of complications in women with the risks of misdiagnosis or lack of diagnosis, resulting in many complications that significantly impair quality of life and put patient at risk for complications.
This study will seek to increase awareness of bleeding disorders across multiple specialties and will focus primarily on OB/GYN which is when many women with bleeding disorders first present.
Award Focus Area: Blood Disorders – All Blood Disorders ($15,000)
Arielle L. Langer, MD, MPH
Clinical Instructor in Medicine, Harvard Medical School, Boston, MA
Mentor: Dr. Nancy Berliner
Project Title: Exacerbation of anemia from beta thalassemia minor during pregnancy: characterization of severity and use of erythropoietin stimulating agents
Project Description: Beta thalassemia minor is routinely described as a condition with no clinical impact. However, while in many circumstances the sequelae are benign, beta thalassemia minor can cause significant anemia in pregnant women. Due to the perception that it does not have a negative clinical impact on patients, there is no established approach for managing women with beta thalassemia minor during pregnancy, either with erythropoiesis-stimulating agents (ESAs) or transfusion. Consequently, many hematologists and obstetricians do not currently have the knowledge needed to provide optimal antepartum care.
Given the deficit of research characterizing the interplay of beta thalassemia minor and pregnancy, the primary aim of her study is to establish the usual severity of anemia, characterize the timing of onset, and quantify the frequency of transfusion. To provide a better understanding of how to intervene for these women, this study will determine whether ESA use is associated with higher hemoglobin levels or lower transfusion rates peripartum in women with beta thalassemia minor. To understand one mechanism of harm to these women, the study will characterize how frequently they receive inappropriate parenteral iron administration. And it will also estimate the rates of adverse obstetrical outcomes. Finally, as many perceive that beta thalassemia minor as a cause of anemia during pregnancy is underdiagnosed, the study will quantify the proportion of women without appropriate testing to confirm the diagnosis.