Across The Lifespan of Women and Girls with Blood Disorders: Adolescence Through Menopause
To view the videos, please scroll down. 
This satellite symposium took place preceding the 55th American Society of Hematology (ASH) Annual Meeting and Exposition on December 6, 2013, in New Orleans, LA.
This session provides evidence-based, practical information on the clinical management of women and girls with blood disorders across their lifespan, from menarche through menopause and beyond. The discrete life-stage impact of these disorders, the best diagnostic tools, optimal therapies and treatment guidelines are presented.
This session is jointly sponsored by the Duke University School of Medicine and the Foundation for Women & Girls with Blood Disorders.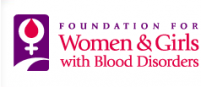 Learning Objectives and Goals:
After completing this activity, the participants will be able to do the following:
Understand and apply options for optimally managing menses and menstrual pain in adolescents with sickle cell disease
Describe and apply the full range of reproductive choices available to young women/women with sickle cell disease and sickle cell trait
Identify and describe the variable severity in physical phenotype and in hematologic profile of the inherited bone marrow failure (BMF) syndromes
Manage menarche and pregnancy as well as discuss fertility/infertility in patients with inherited BMF diseases
Construct a plan of management for the severely alloimmunized patient using state-of-the-art surveillance tools and intrauterine transfusion therapy
Describe and apply available options for optimally managing care in pregnancies identified to be at-risk for fetal and neonatal alloimmune thrombocytopenia
Discuss and apply specific plans in the case of thrombocytopenia in pregnancy, for antenatal interventions and for managing delivery and the postpartum period, and the neonate
Describe and apply optimal approaches to management of older women with the diagnosis of Type 1 VWD, with various VWF levels and gynecologic and medical issues
Describe the management of menopausal hot flashes in women at risk for thrombosis 
Apply effective options to relieve vaginal dryness or insomnia if hormone therapy is not an option
---
 Please Scroll Down to view each video in the presentation/program order:
Video #1: 
Welcome/Introduction
Andra James, MD, MPH, and Barbara Konkle, MD
Presentation #1: Adolescents, Sickle Cell Disease and Reproductive Lifespan Issues
Kim Smith-Whitley, MD
Children's Hospital of Philadelphia
Philadelphia, PA 
Video #2:
Presentation #2: Girls with Bone Marrow Failure: Challenges with Menarche and Beyond 
Adrianna Vlachos, MD
North Shore LIJ Health System
New Hyde Park, NY
Video #3:
Presentation #3: Red Cell Alloimmunization in Pregnancy: Diagnosis and Management
Kenneth Moise, Jr., MD
University of Texas Medical School
Houston, TX 
Video #4:
Presentation #4: Platelet Alloimmunization in Pregnancy
Terry Gernsheimer, MD
University of Washington School of Medicine
Seattle, WA
Video #5:
Presentation #5: Growing Older with von Willebrand Disease
Barbara Konkle, MD
University of Washington School of Medicine
Seattle, WA 
Video #6:
Presentation #6: Menopause Life-Stage Challenges for Women with a History of Thrombosis
JoAnn Pinkerton, MD
University of Virginia
Charlottesville, VA
* Correction: Please note that on Slide #21 of Presentation #6, the title should read as follows: Gabapentin gastroretentive 1800 mg.